NEMESIS is an Innovation Action funded under a Co-Creation Call on H2020 focused on Education and Skills to empower Europe's young innovators. NEMESIS also shares a Responsible Research and Innovation approach, meaning all partners and stakeholders are equally important in creating the NEMESIS educational model.
Even if not purely research, some of the project deliverables and developments could be of your interest as a researcher on social innovation or education (or both). The project will develop a framework on social innovation learning, a guide on developing a co-creation lab, a cross-cultural assessment of teachers' needs and a set of recommendations to foster organizational change in schools.
You may want to use NEMESIS as a source of information or case study for your research, or have any interesting input to share. If that is the case, feel free to contact us. You can also subscribe to our newsletter to get notified on project developments and deliverables.
"The whole aim of the project is how we can create materials for teachers and students that will encourage them to become more socially aware and innovative, and foster their participation in the society. And the way of doing that is via the co-creation labs, where all participants are equal contributors."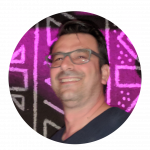 Aristidis Protopsaltis
Researcher at the Friedrich-Alexander Universität and NEMESIS project manager