Students
During the last year, 1030 students have developed NEMESIS projects across Europe. 
In NEMESIS you have a voice: you are not being told what to do, and we want you to develop your own ideas. In NEMESIS projects, students, teachers and adults from the community work together to change social challenges or problems in your school or community.
We've already seen students becoming co-creators of their own projects;  they are empowered to take risks, ask questions and make mistakes by getting involved and taking ownership and responsibility of their own learning. Download our Welcome Package for Students for further information. 
"Our project is really interesting because it enables us to solve things in our own way".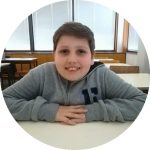 Daniel
Student, AEMaia (Portugal)
Welcome Pack for Students