In every journey there is a a group of brave pioneers whose implication and commitment are essential to succeed. Those are our schools. We are already looking for more schools to be involved, so keep an eye on this – we will be updating!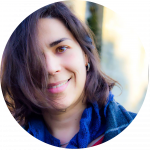 Aline Santos
AEMaia (Portugal)
Located in the city of Maia, very close to Porto, AEMaia is a cluster of four primary and secondary schools with around 3000 students and 260 teaching staff. Our leading contact there is Aline Santos, the international coordinator; but also Luis, Raquel, Ana and many other teachers that will engage in the project as we go along, adding their experience and expertise.
Ana Echevarría
Los Albares (Spain)
A primary school located in La Puebla de Alfidén, a small village of 6000 inhabitants near Zaragoza, Los Albares has 30 teachers and 485 students. Principal Ana Echevarría is our main contact here, together with Lisa Harrison (Los Albares is a bilingual school), Marta Lombardo and others. They have a strong commitment with cooperative learning and engagement with their community, making them a perfect fit within NEMESIS.
Jane Fearnley
Herringthorpe School (UK)
Primary school with 13 teachers and 360 students aged 7-11 years old. Located in South Yorkshire, UK, it has students from diverse cultural backgrounds. Our main contacts are Louise Greenwood, schoolhead, and Jane Fearnley, executive headteacher of Willow Tree Academy – a four school cluster Herringthorpe belongs to. Together with them are Marie, Faye, and many more. An amazing team with lots of experience in enterprise education and REAL projects.