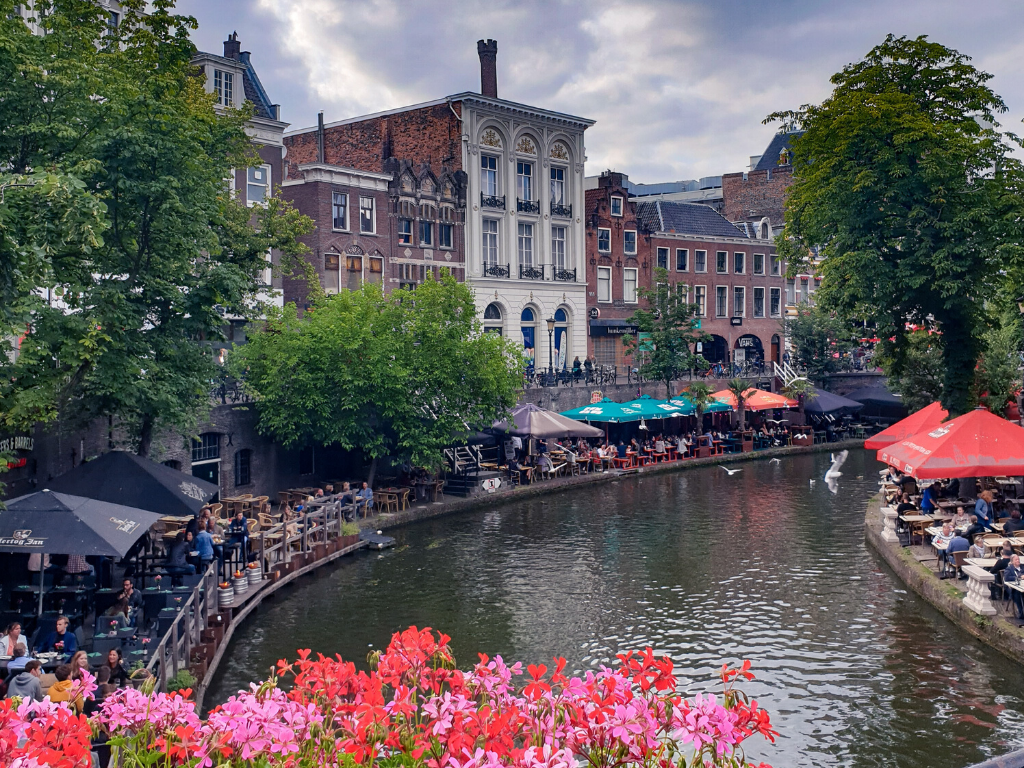 Our 7th international partners' meeting wrapped up three weeks ago, and as usual, it was filled with both insight and inspiration. The beautiful city of Utrecht served as the backdrop to a discussion on the progress of the project and how it is being developed. The event was held at UniC, an innovative school with flexible schedules and personalized coaching, which encourages students to take ownership of their own education and to create their own system of learning.
Over the course of two intensive days, our partners and several schools involved in NEMESIS came together to present some of their discoveries/developments advances and explore new opportunities surrounding our second pilot. Our meeting was mainly focused on the work of our first pilot NEMESIS schools and the new ones that are joining us this year.
On the second day of our partner meeting in Utrecht, we will be learning about @unicutrectch, and their innovative teaching model based on autonomy, solidarity and personal development. We'll have a guided tour by students. Follow our Instagram Stories for more #nemesischangemakers pic.twitter.com/4Ncq012m9T

— NEMESIS – Social Innovation Education (@nemesis_edu) November 8, 2019
Conclusions of the First Pilot: shifting the education system
The results of the first pilot period showed how students can benefit from their involvement in the NEMESIS co-creation labs in terms of their emotional, cognitive, behavioural and agentic engagement.
Focusing on the collective group of students rather than on the individual, our practice is largely derived from participatory design techniques and collaborative thinking. This, in the context of our (evaluation) findings, enables teachers to motivate students, and stimulate their cognitive engagement with the subject matter. They can highlight the connection between different subject areas, create team-based teaching strategies and encourage students to take action. This ultimately improves the relationship between individuals in the school, making for a better environment both inside and outside the classroom.
"For me, it's absolutely different: working with external partners, dealing with something global, the neighbourhood… it's not so much about results but about giving kids exposure to the different issues and putting them in the driving seat. We see a problem, we investigate it, and together we find a way we want to solve it. That's the goal, to work together with kids to find a solution, and in the process to make them realize that even if it doesn't work in the end, they are still capable of taking action" (Headmaster – France)
The co-creation labs can be viewed as an extracurricular activity that facilitates the participation of families and external stakeholders. However, NEMESIS also presents an opportunity to create links between the project and core schools subjects and coursework:
"In class, we learn about cleaning up the ocean. The fact that this was related, then, to our NEMESIS project really enhanced the learning experience for the kids.   It added a 'real' element to the work." (Teacher, Willow Tree Academy, UK)
Expectations for the Second Pilot: shaping our future
The previous year in NEMESIS, 8 schools, 56 teachers and 1030 students around Europe tested our new and experimental educational approach to empower young people. Once that NEMESIS has proved its potential to be extended to a larger number of new schools, each country started working on their national plans to scaling up the project.
For the new schools in pilot countries, the NEMESIS team is introducing teacher training programmes. This, it is hoped, will help to give them a concrete idea of the NEMESIS ethos and lay the foundations for their participation in year 2 of the pilot project.
The project coordinator, The Institute for Learning Innovation, presented the prototype of the NEMESIS MOCC to the partners, where the teacher trainings, among other materials, will be available on our Learning online Platform by the end of this year.
Exploitation and sustainability of the NEMESIS' outcomes
We had a very interesting session facilitated by Catherine Brentnall and Jen Wall. This work session was designed for NEMESIS members to come up with how to make the positive impact of the projects sustainable and potentially exploit them further. It aimed to ensure greater longevity of the projects.
To facilitate this, Catherine and Jen used a practice called Cooperative Learning, developed by Jakob Werdelin, It consists of a pre-structured group effort the success of which depends on each specific member carrying out certain tasks at certain times. Cooperative Learning aims to solve questions that often arise during the participative sessions, like the difference in how confident participants are at speaking publicly:
"The learning method that is espoused is true learning — it encourages the development of the inner voice and promotes an ability to speak out loud and engage with others. This issue of individual versus group is as old as the discussion of knowledge versus skills. It brings us back to the discussion of finding alternatives to the aspiration discourse within widening participation." cooperative learnings works 
We perceive strong potential in the NEMESIS model to help to shape the future of education, to empower students to be change-makers and contribute to a better society. Not only can it embed social innovation in curricular and extracurricular activities. It can also provide a lasting practice for schools who wish to reshape social or environmental systems that perpetuate injustice or lack of participative representation.
#nemesians @nemesis_edu ♡ pic.twitter.com/bdyifKt9uD

— Catherine Brentnall (@areyoureadyteam) November 8, 2019
---
Do you want to learn about other schools projects in NEMESIS? Click here.
Are you a school willing to learn more about NEMESIS or thinking about joining the project? Feel free to surf the web and drop us a line (hello@nemesis-edu.eu) or fill our contact form.
Are you a social innovator who – as those mentioned here– would like to collaborate with the schools in your area? Click here for more info on how to become a mentor.