Ok, I'm in. What are the next steps?
"When you mix education, especially of primary and secondary children, with a social innovation approach and tools coming from the art field, you can do amazing things"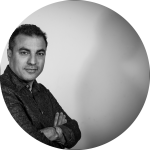 Sam Khebizi
Founder, Les Têtes de L'Art
1. Click here to register on NEMESIS online platform or drop us a line for further information
2. Access our downloadable NEMESIS mentoring and coaching guide to have a better understanding of the project and how to work with the schools.
3. The facilitators will contact you to discuss your participation in the co-creation labs